Hey Everyone!
How are you all doing today?  Is anyone enjoying beautiful weather in their area?  I'll be honest, mother nature has been going through some serious mood swings where I live… I feel like like one day I will be dying of heatstroke, the next day I need my winter jacket, and the day after that there are flood warnings.  Like come on mother nature, get a hold of yourself!!!  I'm so tired of dressing for all four seasons within a week's time span.  End rant.
Anyways, bouncing off of that lovely intro, I have some good news for you all.  I am officially done with school for the semester, so aside from work and a few summer courses I will have a lot more free time to get up blog posts… and to kick everything off, today's post is going to be all about bathing suits.  I was originally going to try and determine what bathing suits flatter what figures best, but I feel like that has been done a thousand times; and in reality, everyone has a different opinion when it comes to that matter.  To me, it doesn't matter what type of figure you have, as long as you are confident, and love what you are wearing, who cares what other people think?  You shouldn't be forced to wear a bathing suit you don't love just because someone else tells you to.  That's stupid.
However, with that in mind, I have been eyeing up quite a few bathing suits for this season; because let's be real, when am I not eyeing something up?  I know, I'm stumped too.  I just feel like there are so many unique bathing suits out this year, and I can't help but want them all.  In the past, I have definitely fallen into the trap of buying variations of the same bathing suits over and over again, but I have to say- I don't think I will have a problem with that this year.  I will more likely have too many options, but who's complaining?  And with that, lets get straight into the favorites…
Floral One Pieces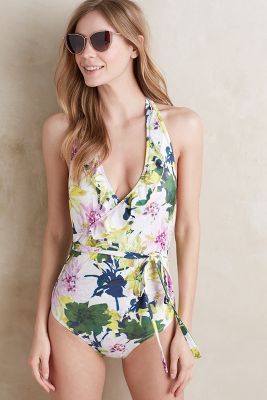 Ruffle Halter One Piece- Anthropologie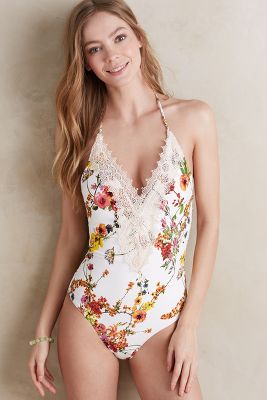 Lace-Front Maillot- Anthropologie
Off the Shoulder Bathing Suits
Flounce One-piece- Victoria's Secret
Flounce Crop Top- Victoria's Secret
Cross Top Bathing Suits
Beach Riot Jet Black Halter Bikini Top- Lulus
Crisscross Halter One Piece- Forever 21
High-Waisted Bathing Suits
Holly Pushup Bikini Top- Aerie
Playful Promises Scallop Edge Bandeau Bikini Top- Asos
Strappy Bathing Suits
Smocked Lace-up Bandeau- Victoria's Secret
Wrap Halter Bathing Suits
Wrap Halter- Victoria's Secret
Surf Wrap Halter- Victoria's Secret
As you can see, there are more than enough of cute bathing suits out this year- so hopefully this post gave at least gave you some inspiration, and fingers crossed that the weather will clear up soon.  Also, has anyone else been loving that Aerie hasn't been retouching any of their models?  I know they started doing this about a year ago, but recently I have been seeing more and more #ariereal's being thrown around the internet, which is awesome.  If you know me personally, you would know that I am all about girls lifting each other up, and feeling confident in their own skin no matter what- so the fact that Aerie is making that extra effort to empower girls makes me super happy (and no, this post isn't sponsored).
So on that note…
Let me know in the comments:
Which style of bathing suit is your favorite?
Does anyone have any exciting vacations coming up?
Until next time,
xoxo,
Angela
P.S. Make sure to sign up for email updates, and follow me on Bloglovin!